News
Ultra-compact IoT edge ready embedded PC for any application
28.09.22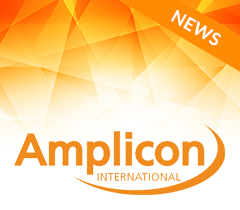 Amplicon has launched its latest fanless embedded PC, the new Impact-P 100A series.
Amplicon, the market leading UK manufacturer of industrial computers, has introduced the new Impact-P 100A series – an IoT edge ready embedded PC featuring Intel® ATOM™ processors.
The new Impact-P series is an ultra-compact fanless PC featuring a modern aluminium and carbon fibre composite chassis, with a wide temperature range, road-mapped components allowing for reliable performance in the harshest of environments.
In addition to an impressive operating temperature ranging from -40°C to +85°C, the new system comes with both Cellular and Wi-Fi connectivity, making it the perfect embedded solution for transferring data from the edge to the Cloud in any IoT environment.
Powered by the superb Intel® ATOM™ Apollo Lake processor, the Impact-P provides 4K immersive graphics and fast video acceleration, making it an exceptional solution for the most demanding media output tasks, including process control display, in-vehicle usage or on-board entertainment.
The new compact and powerful embedded computer has been designed to suit limited space installations, featuring an ultra-light weight of 400grams and a small 110W x 56.8H x 80.5D mm foot-print.
The Impact-P 100A series also features rich expansion and connectivity functions including two USB 3.0, two RJ45 LAN, one HDMI, one M.2 E-Key 2230 slot and one full size mPCIe for Wi-Fi or 4G wireless communication needs.
Joe Davies, Senior Product Specialist at Amplicon commented "Amplicon has designed the Impact-P 100A series to meet and exceed the challenges of computing right at the edge in the harshest of environments. This fully customisable and rugged unit is the ideal solution to a wide range of applications, all in an ultra-small form factor."
News Archive
27.03.23

Amplicon has expanded its flagship industrial computer family, the Ventrix. With major advancements in performance and security, the new Ventrix 12th gen range continues to set the standard for reliable industrial computing....
09.02.23

Amplicon, the UK market leading manufacturer of industrial computers, has announced a massive leap forward in their industrial embedded computer range with the new Impact-D 100EL-A and Impact-D 1100A series of industrial embedded computers...
14.11.22

Amplicon, the UK market-leading manufacturer of industrial computers has introduced the Impact-R 1210F series...
29.06.22

Amplicon announces the release of a new range of Industrial Panel PC's, the Senses 1100, 5700 and 5600 series....
11.04.22

Amplicon further strengthens its popular range of embedded PC's with the new Impact-E 280A series, a high performance computer suitable for a wide variety of embedded applications....
10.03.22

Amplicon has expanded its range of ultra-short depth rackmount PC's. Offering the same high performance as the standard size models, this range provides impressive features in a smaller footprint. Designed & built in the UK with an outstanding lead-time....
01.02.22

Amplicon, the UK's leading industrial PC manufacturer, has announced the launch of their new Impact-D industrial embedded PC's....
19.03.21

Our Product Specialist Sarim Shehzad, explains and demonstrates the benefits of connecting your I/O device to the Cloud....
18.03.21

Amplicon is committed to make sure you choose the right products for your projects....