News
High performance, power-efficient Industrial Panel PC's from Amplicon
29.06.22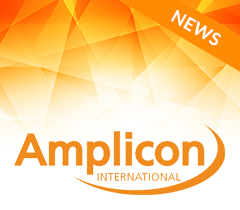 Amplicon announces the release of a new range of Industrial Panel PC's, the Senses 1100, 5700 and 5600 series. The new range provides superb computing and graphics performance, all in an attractive sleek design.
The Senses 1100 are high power, fanless, touchscreen panel computers with all models based on the Intel® Core™ 11th Gen Tiger Lake processors, providing the performance needed for most demanding applications. To support additional external monitors and provide extra GPU power, the Senses 1100 utilises the Intel® UHD Graphics.
The main difference between the two new models lies in the screen size of 10.1" or 15.6" with 1280 x 800 (WXGA) screen resolution and 400nits brightness and with 1920 x 1080 (Full HD) resolution and 405nits brightness, respectively.
The touchscreen of the Senses 1100 panel computers is IP65 protected on the front panel, and supports multi-touch function: up to 10 touch points with a wide range of mounting options to suit a variety of settings.
The Senses 5700 are thin and lightweight, fanless Panel PC's powered by the Intel® Apollo Lake J3455 processors providing high reliable performance coupled with superior protection with their IP65 rating.
The 5700 series are robust and versatile featuring a wide range of I/O ports, including USB, COM, HDMI, and audio I/O, as well as Ethernet and mini-PCIe expansion sockets suitable for Wi-Fi/4G modules.
The new series offers ten-point Protective capacity touch / PCAP and multiple screen sizes: 10.1", 15.6", 21.5" and 23.8". The wide choice of sizes and distinct mounts makes them ideal for a variety of industrial, retail and commercial uses such as restaurant boards, signage, advertisement, exhibitions, vending and ticketing machines.
The Senses 5600 are rugged industrial Panel PC's based on the Intel Atom® processors offering a wide range of screen sizes from 7 to 21.5 inches LCD panels. The systems feature PCAP or resistive touch, touchscreen, IP65 rating panels for full protection against dust and water.
These new systems are innovative modular touch panel PC's which adopt "Adaptive Display Platform" (ADP) technology, including diverse sizes of panel PC's and box PC's that can be adaptive to diverse requirements. The box module houses CPU, memory, and I/O whereas the panel module facilitates signal inputs and display making these computers an extremely flexible solution.
All Amplicon Industrial Panel PC's offer a rugged design combined with the latest technologies making them ideal for a wide range of applications including factory automation, transportation, critical mission applications, and more.
News Archive
27.03.23

Amplicon has expanded its flagship industrial computer family, the Ventrix. With major advancements in performance and security, the new Ventrix 12th gen range continues to set the standard for reliable industrial computing....
09.02.23

Amplicon, the UK market leading manufacturer of industrial computers, has announced a massive leap forward in their industrial embedded computer range with the new Impact-D 100EL-A and Impact-D 1100A series of industrial embedded computers...
14.11.22

Amplicon, the UK market-leading manufacturer of industrial computers has introduced the Impact-R 1210F series...
28.09.22

Bring edge computing to the harshest of environments with Amplicon's latest ultra-small IoT edge ready PC...
11.04.22

Amplicon further strengthens its popular range of embedded PC's with the new Impact-E 280A series, a high performance computer suitable for a wide variety of embedded applications....
10.03.22

Amplicon has expanded its range of ultra-short depth rackmount PC's. Offering the same high performance as the standard size models, this range provides impressive features in a smaller footprint. Designed & built in the UK with an outstanding lead-time....
01.02.22

Amplicon, the UK's leading industrial PC manufacturer, has announced the launch of their new Impact-D industrial embedded PC's....
19.03.21

Our Product Specialist Sarim Shehzad, explains and demonstrates the benefits of connecting your I/O device to the Cloud....
18.03.21

Amplicon is committed to make sure you choose the right products for your projects....