News
Amplicon obtains JOSCAR accreditation
10.01.21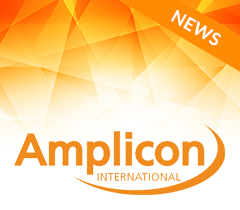 We are proud to announce that Amplicon has successfully met the rigorous requirements to be accepted into JOSCAR, the Joint Supply Chain Accreditation Register.
JOSCAR is a collaborative tool used by the aerospace, defence and security industry to act as a single repository for pre-qualification and compliance information. Using JOSCAR can determine if a supplier is "fit for business".
JOSCAR, which is valued by some of the largest companies in the defence community, collects information on many aspects of a company profile, including legal and financial status, nature of goods and services, risk triggers, capabilities and information security. Furthermore, all the information must be presented along with supporting evidence such as policies and certificates.
Achieving this certification demonstrates that Amplicon complies with the highest industry standards assuring defence companies and major organisations that Amplicon is a trusted supplier.
News Archive
19.03.21

Our Product Specialist Sarim Shehzad, explains and demonstrates the benefits of connecting your I/O device to the Cloud....
18.03.21

Amplicon is committed to make sure you choose the right products for your projects....
22.10.20

Amplicon is delighted to announce the launch of a series of technical webinars hosted by our very own technical experts. Registration now open....
13.05.20

Amplicon, market leading manufacturer of industrial computers, launches probably the smallest industrial embedded PC in the marketplace, the Impact-P....
16.10.18

Amplicon has introduced the new Impact-D 100AL – their first ever DIN Rail PC to feature Intel® ATOM™ processors....
23.06.18

Amplicon, the UK market leading manufacturer of industrial computers, introduces a new and improved range of industrial monitors, including high performance Full-HD and 4K displays....
23.05.18

Amplicon, the UK's market leading manufacturer of industrial computers, has introduced the new KwikDraw-A Multiscreen series – The first ever rackmount console from Amplicon to offer dual or triple display output....
05.03.18

The Amplicon Impact-E x224BT has been designed to deliver flexible expandability in a compact and reliable unit....
19.02.18

Amplicon, the UK market leader in the manufacture of high-performance industrial computers has announced plans to continue its commitment to innovative, new product development in 2018 and will be introducing brand new Industrial computers every month....