News
Amplicon introduces new Industrial monitors with impressive Full-HD and 4K resolutions
23.06.18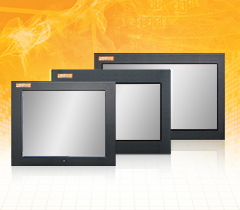 Amplicon, the UK market leading manufacturer of industrial computers, introduces a new and improved range of industrial monitors, including high performance Full-HD and 4K displays.
With an increasing focus on graphical capabilities for industrial applications, Amplicon has expanded its product offering to meet the current market trends.
The Amplicon range of Senses Industrial Monitors comprises of a variety of SD displays for low-cost, less demanding applications, as well as, both Full-HD and 4K displays for operations where margin of error can have detrimental effects.
The Full-HD and 4K range of Senses monitors is available with either resistive touch or 10-point projected capacitive touch, enabling pinch-and-zoom functionality and improved overall user-experience. Both models are panel-mount, VESA-mount or open frame to suit a variety of applications.
The 4K Senses range is the most powerful of the Amplicon industrial monitors delivering a resolution of 3840 x 2160 for pixel-perfect graphics. This unit is available as standard with a 15", 17" or 23" display, however it is available up to 65" upon customer request. To ensure no user is denied the benefits of 4K, this range can be configured to accept a range of DC power inputs, such as 48V DC which is commonly used in automation facilities.
Further additions to the Senses Industrial Monitor range includes a new 20" SD display, now offering IP65 rated front protection for hostile industrial environments where water and dust is commonplace, or USB resistive touch for data entry.
News Archive
19.03.21

Our Product Specialist Sarim Shehzad, explains and demonstrates the benefits of connecting your I/O device to the Cloud....
18.03.21

Amplicon is committed to make sure you choose the right products for your projects....
10.01.21

We are proud to announce that Amplicon has obtained JOSCAR accreditation! This demonstrates Amplicon complies with the highest industry standards assuring we are a trusted supplier....
22.10.20

Amplicon is delighted to announce the launch of a series of technical webinars hosted by our very own technical experts. Registration now open....
13.05.20

Amplicon, market leading manufacturer of industrial computers, launches probably the smallest industrial embedded PC in the marketplace, the Impact-P....
16.10.18

Amplicon has introduced the new Impact-D 100AL – their first ever DIN Rail PC to feature Intel® ATOM™ processors....
23.05.18

Amplicon, the UK's market leading manufacturer of industrial computers, has introduced the new KwikDraw-A Multiscreen series – The first ever rackmount console from Amplicon to offer dual or triple display output....
05.03.18

The Amplicon Impact-E x224BT has been designed to deliver flexible expandability in a compact and reliable unit....
19.02.18

Amplicon, the UK market leader in the manufacture of high-performance industrial computers has announced plans to continue its commitment to innovative, new product development in 2018 and will be introducing brand new Industrial computers every month....