News
Experience Unrivalled Flexibility with the New KwikDraw-A Multiscreen Series from Amplicon
23.05.18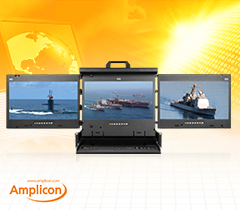 Amplicon, the UK's market leading manufacturer of industrial computers, has introduced the new KwikDraw-A Multiscreen series – The first ever rackmount console from Amplicon to offer dual or triple display output.
The new KwikDraw-A Multiscreen series is the latest addition to the Amplicon Industrial Computing portfolio, designed to provide a flexible solution for a wide range of human-to-machine interface applications.
This compact 2U unit offers users a choice of either two (opening left or right) or three 17" LCD displays, delivering 4K or FHD graphics for even the most demanding video output requirements. With optional 10-point projected capacitive touch or 1-point resistive touch, the KwikDraw-A series provides an extensive variety of set-ups for application specific usage.
Thanks to its rugged design and multiple video display options (VGA, DVI, DPI.2), the KwikDraw-A Multiscreen series delivers a flexible interface solution, offering easy integration into most existing IT infrastructures, such as, CCTV surveillance or test-racks.
Finally, the KwikDraw-A series benefits from a low power draw to maintain efficient running costs, with just a 4W standby, as well as, a lightweight 'one-person-installation' design.
News Archive
19.03.21

Our Product Specialist Sarim Shehzad, explains and demonstrates the benefits of connecting your I/O device to the Cloud....
18.03.21

Amplicon is committed to make sure you choose the right products for your projects....
10.01.21

We are proud to announce that Amplicon has obtained JOSCAR accreditation! This demonstrates Amplicon complies with the highest industry standards assuring we are a trusted supplier....
22.10.20

Amplicon is delighted to announce the launch of a series of technical webinars hosted by our very own technical experts. Registration now open....
13.05.20

Amplicon, market leading manufacturer of industrial computers, launches probably the smallest industrial embedded PC in the marketplace, the Impact-P....
16.10.18

Amplicon has introduced the new Impact-D 100AL – their first ever DIN Rail PC to feature Intel® ATOM™ processors....
23.06.18

Amplicon, the UK market leading manufacturer of industrial computers, introduces a new and improved range of industrial monitors, including high performance Full-HD and 4K displays....
05.03.18

The Amplicon Impact-E x224BT has been designed to deliver flexible expandability in a compact and reliable unit....
19.02.18

Amplicon, the UK market leader in the manufacture of high-performance industrial computers has announced plans to continue its commitment to innovative, new product development in 2018 and will be introducing brand new Industrial computers every month....