News
New powerful Industrial Panel PC with innovative 10 Point Touch
25.01.18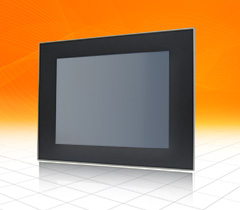 The new Senses 5400 combines a truly sleek and modern design with a set of innovative and protective features including, Projected Capacitive Multi-Touch and IP65/IP20 rated protection making it ideal for most industrial SCADA/HMI applications.
The superior performance of the new Industrial Panel PC is achieved thanks to the use of powerful Intel® ATOM™ processors, offering enhanced computing power and boasting a 15+ year lifecycle.
The wide operating temperature, IP65 screen and IP20 back panel makes the Senses 5400 suitable for a wide variety of SCADA/HMI applications such as rail, marine or factory floors.
In addition to its high performance, the storage capacity has also been dramatically improved, giving engineers the option to use a single SATA 2.5", HD/SSD, CFII (up to 64G) or SD card.
Available in five different sizes, 10",12",15", 17" and 19", the new Senses 5400 offers flexible I/O configuration through its drop-in replacement slots, making system integration a effortless task.
Additionally, the Senses 5400 comes complete with a full rackmount kit and runs active support for Windows 7, Windows 10, Windows 10 IoT and Linux.
News Archive
13.05.20

Amplicon, market leading manufacturer of industrial computers, launches probably the smallest industrial embedded PC in the marketplace, the Impact-P....
16.10.18

Amplicon has introduced the new Impact-D 100AL – their first ever DIN Rail PC to feature Intel® ATOM™ processors....
23.06.18

Amplicon, the UK market leading manufacturer of industrial computers, introduces a new and improved range of industrial monitors, including high performance Full-HD and 4K displays....
23.05.18

Amplicon, the UK's market leading manufacturer of industrial computers, has introduced the new KwikDraw-A Multiscreen series – The first ever rackmount console from Amplicon to offer dual or triple display output....
05.03.18

The Amplicon Impact-E x224BT has been designed to deliver flexible expandability in a compact and reliable unit....
19.02.18

Amplicon, the UK market leader in the manufacture of high-performance industrial computers has announced plans to continue its commitment to innovative, new product development in 2018 and will be introducing brand new Industrial computers every month....
11.09.17

Amplicon introduces a new powerful addition to its range of Industrial PCs; Impact-R 1110F and Impact-E 150AL....
28.03.17

Impact-D 160 brings unique space saving opportunities...
10.11.16

The Amplicon Senses industrial monitors offer the highest quality LCD, enabling clarity and crystal imaging regardless of the resolution!...