News
Amplicon monitors for premium display quality
10.11.16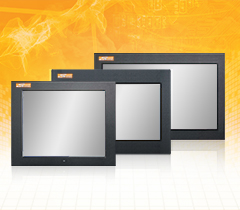 The Amplicon Senses industrial monitors offer the highest quality LCD, enabling clarity and crystal imaging regardless of the resolution!
There are three options to choose from: Rack-mountable, Panel-mountable and Open Frame. The choice allows greater flexibility for mounting integration.
All three options are available in 17" or 19" screens with options for touch screen and different combinations of video input. DVI, HDMI, or VGA? We have a screen to suit your needs!
News Archive
16.10.18

Amplicon has introduced the new Impact-D 100AL – their first ever DIN Rail PC to feature Intel® ATOM™ processors....
23.06.18

Amplicon, the UK market leading manufacturer of industrial computers, introduces a new and improved range of industrial monitors, including high performance Full-HD and 4K displays....
23.05.18

Amplicon, the UK's market leading manufacturer of industrial computers, has introduced the new KwikDraw-A Multiscreen series – The first ever rackmount console from Amplicon to offer dual or triple display output....
05.03.18

The Amplicon Impact-E x224BT has been designed to deliver flexible expandability in a compact and reliable unit....
19.02.18

Amplicon, the UK market leader in the manufacture of high-performance industrial computers has announced plans to continue its commitment to innovative, new product development in 2018 and will be introducing brand new Industrial computers every month....
25.01.18

Amplicon, market leading manufacturer of industrial computers, launches its most powerful Industrial Panel PC to date, the new Senses 5400. ...
11.09.17

Amplicon introduces a new powerful addition to its range of Industrial PCs; Impact-R 1110F and Impact-E 150AL....
28.03.17
Impact-D 160 brings unique space saving opportunities...
22.09.16
The Amplicon design team have been busy developing products that that have company workloads in mind. ...