News
Amplicon releases new Technical Masterclass on I/O devices Cloud connectivity
19.03.21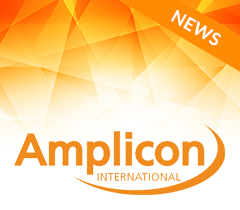 The Moxa ioThinx, currently available for testing, is one of the little gems in our Automation & Control range.
In this video our Product Specialist Sarim Shehzad explains and demonstrates the benefits of connecting your I/O devices to the Cloud.
The product featured in the practical demonstration, the ioThinx 4510 is an advanced modular remote I/O system with unique hardware and software design, making it ideal for a variety of industrial data acquisition applications.
The ioThinx series has a distinctive mechanical design that reduces the amount of time required for installation and removal, simplifying deployment and maintenance. These support Modbus RTU Master protocol for retrieving field site data from serial meters and also supports OT/IT protocol conversion.
Don't miss this technical masterclass!
News Archive
18.03.21

Amplicon is committed to make sure you choose the right products for your projects....
10.01.21

We are proud to announce that Amplicon has obtained JOSCAR accreditation! This demonstrates Amplicon complies with the highest industry standards assuring we are a trusted supplier....
22.10.20

Amplicon is delighted to announce the launch of a series of technical webinars hosted by our very own technical experts. Registration now open....
13.05.20

Amplicon, market leading manufacturer of industrial computers, launches probably the smallest industrial embedded PC in the marketplace, the Impact-P....
16.10.18

Amplicon has introduced the new Impact-D 100AL – their first ever DIN Rail PC to feature Intel® ATOM™ processors....
23.06.18

Amplicon, the UK market leading manufacturer of industrial computers, introduces a new and improved range of industrial monitors, including high performance Full-HD and 4K displays....
23.05.18

Amplicon, the UK's market leading manufacturer of industrial computers, has introduced the new KwikDraw-A Multiscreen series – The first ever rackmount console from Amplicon to offer dual or triple display output....
05.03.18

The Amplicon Impact-E x224BT has been designed to deliver flexible expandability in a compact and reliable unit....
19.02.18

Amplicon, the UK market leader in the manufacture of high-performance industrial computers has announced plans to continue its commitment to innovative, new product development in 2018 and will be introducing brand new Industrial computers every month....